Occasionally creative work (?) has to stop while maintenance is done. One of my maintenance responsibilities is our two car garage. The garage is home to several bicycles, kids wagons, gardening gear including a wheelbarrow, a freezer, several metres of shelving and a motorcycle.
all those stones, two yards worth were carried in
buckets from the front of the house. We worked hard and so
did our neighbours. Hidden under the stones is two yards of gravel, ditto.
Lately we have been working on a big landscaping project which has mobilized all the gardening gear and dragged mud and dust into the garage. Yesterday was the finally day of earth and stone moving and so seemed like a good day to make an effort on the garage. Since the garage is a busy access to the house if it gets too mucked up, the mess gets tracked into the house and unhappiness ensues.
Cleaning the garage is not a bad job on a nice day. Late in the season when we put most of the gardening stuff and bicycles out of the way so that we can bring our car in for the winter the garage work is not as nice.( I always leave it 'til it is cold) Yesterday was a good day, the sun was shining and for a change it wasn't too hot. What do you do? Drag most of the stuff out onto the driveway to make room to work (and let the neighbours see what you've got), don't do it on Saturday or someone will stop thinking it is a garage sale, and set to work.
The first and most important thing for me when doing nearly any job are tunes. Yesterday was Scott Joplin's Greatest Hits of Youtube. Once I get the music right I clear away a flat safe spot for my coffee cup.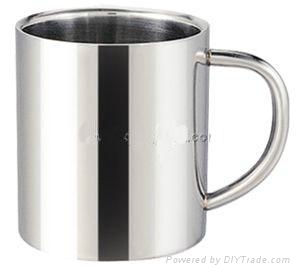 without hot beverages,
there is no civilization.

Then I am ready to get to work. I begin by sorting though nearly empty bags and boxes. Our garage is the place were half used bags of potting soil, and fertilizer gather. Their natural allies are the cardboard boxes that 'we may need one day'. By the time I was done with the boxes I had a Blue Bin filled with recycle-able material. (a knife like this is the tool for the job). There were several bags of potting soil and an assortment of plastic flower pots that were also amalgamated or discarded.
Doing that made room for the next stage of the job. I got serious about gathering all the like things together, bungee straps and gardening gloves seem to form into small tribes and hide away in corners from their friends and relatives. By the end of the morning I had herded these two tribes into one place and found 10 pairs of garden/work gloves (nice gloves) and a 6 quart basket filled with bungee cords of all lengths. This happens because both of us are guilty of not putting things back where they belong when we are done with them, I'm afraid.
The final act in the drama is the BROOM. Several years ago I bought a couple of good brooms. Not only do they make for smoother and faster commuter flights but they make sweeping the dirt and wood shavings out of the garage easier. A light weight 'sweeping around in the house' broom is just not up to the challenge of the garage or workshop. We also have interlocking stones for our driveway and a frail little 'in door' broom doesn't cut it when there are fallen leaves and light snow to move.
Another part of the job is to re-stack the lumber that is stored in the garage. I have a smallish pile of lumber against one wall. Have you ever noticed that the piece of wood you want for the current project is always half way down the pile. Once I retrieve the wood I want, I kind of re-pile things and promise to return soon to do the job properly. I guess soon is a relative term so yesterday I returned to straighten out and re-pile my wood.
I knew that the space had not gotten totally out of control because all I needed was a dust pan to gather together the swept up debris. There have been times when I needed a snow shovel to scoop up the sweepings. I our defence, our garage faces into the prevailing wind and as the sub division's houses have been built bushels of clay and stray bits of building material have blown into our garage for the past six years. I am not Martha Stewart but neither I am Shrek. Since the house are all built,
I am hopeful that the only mess to collect our space will be our own.
In the wood shop I actually have a project that warranted my drawing up a plan and a cutting list. I am making and Eva is painting a Puppet Theatre for our 3 year old grand daughter.
Our design is similar to the one in the photograph. The section behind the blue board on ours has 15 cubbyholes to give the troupe of actors a place to live when not employed.
The pieces are cut out now and since they are mostly Baltic birch I need to thoroughly sand and seal all the edges and faces before they get painted.