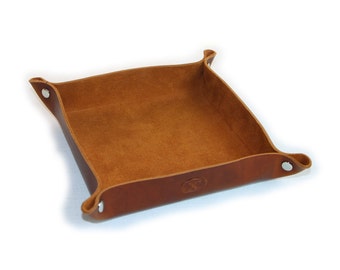 I liked the folding tray idea for keeping small items from rolling off my desk or bench and generally controlling small parts and tools. When carving I usually use four or five knives and chisels
repeatedly and when painting often have a couple of brushes on the go at once. Gluing small parts is another time that I need to protect my bench top and control the mess. If these things are in a small tray like this they could be kept close at hand. And if the tray wasn't leather they can be used for paint and glue and all types of mess, then be laid flat and washed out.
Two Trays, one with two inch sides,
one with one inch sides.

Folded flat for storage
First I cut the coffee bag square, it is more or less 12 inches each side.
I used a coffee bag because they are quite tough and we've got lots of them. Also using a coffee bag to back onto the duct tape means that cost is reduced by one layer of duct tape.
Next I taped the bag down in the middle, taping it to my cutting mat. This way the bag doesn't move around while I add the other strips of tape. It is easier to tear the duct tape than to cut it with scissors or a knife. I left extra on the edges and then cut the excess off with a knife and a straight edge at the end.
A bone folding knife is what I used to put a deep crease along each side. A bone knife is nice since it scores deeply but won't cut into the material, book binders use them all the time. To use the tray it is folded along the crease and held up with paper clips. When not needed the tray folds flat and stores out of the way.
Since these trays are quick and easy to make when they get messed up with glue or paint they can easily discarded.
Making this spoon is partly want drew my attention to the tray. It was a lovely day yesterday and I took my wood carving out to the back deck. I had a couple of knives and an couple of small gouges and some sand paper. If I had, had a tray the knives wouldn't have rolled off the table and onto the deck as often. Also it would not have been a juggling act to get the various tools upstairs and out the back door.
You don't notice how often you drop things until you develop back trouble and the floor gets to be miles away. Anyway to keep things on the bench is worth the effort.
I think that most anyone making things could use trays like this.