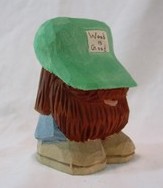 Every now and then I return to a beginner type project as a practise piece. It is sort of like a golf pro taking time out to work on their swing again. I don't expect to make any big changes to my method of work because of Bufford, as he didn't take much time to carve his real use is as an exercise in painting. Painting and finishing are my weakest areas in carving.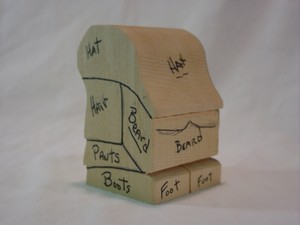 The lay out for Bufford is pretty easy. I started out with the standard plan but deviated somewhat.
I am going for the ZZ Top look. If you are interested in trying your hand at wood carving there are lots of pictures of Bufford on the net and all your really need to get started is a sharp knife and some basswood( or clear pine). Something like this sanding file or needle files will make final shaping quick and easy.
I made my guy fairly large. A larger piece is easier to hold on to while working, if you are going to make a small carving start with a extra long piece of wood. Do most of the heavy carving when you've got a good hand hold available then cut the piece free of the hand hold for fine work and finishing.
Give carving a try, you never know. And, when Bufford is done drill a hole or two in his head and make him a pencil holder if you can't think of anything else.
cheers, ianw